Event Decor Rentals in Miami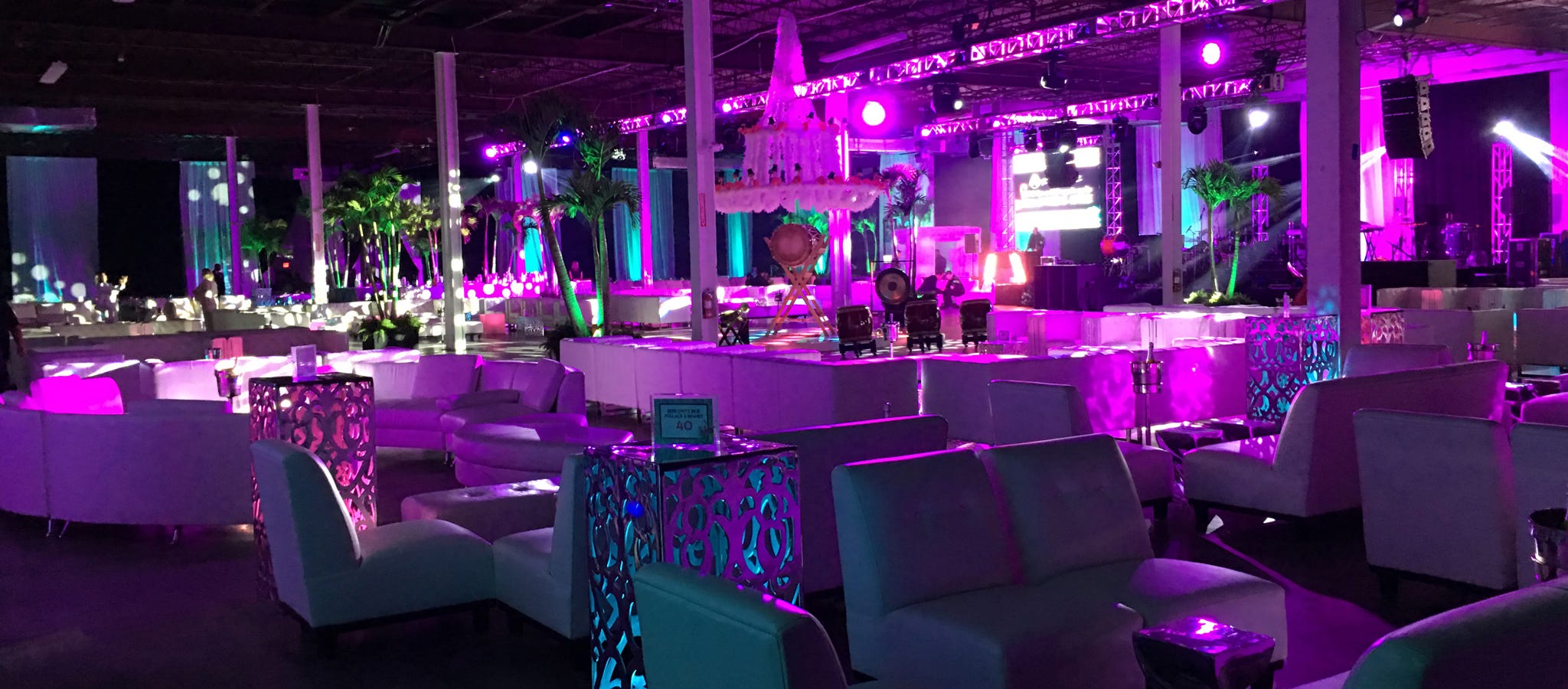 Custom Accent & Decor Event Rentals
So Cool Events offers a wide variety of stylish, top-quality décor to make your event stand out. From unique room décor, pillows and rugs to lighted furniture, our professional rental company can help you create the most memorable event space possible.
Perimeter Decor, Lighted Accents, Topiary, and More
Our wide range of acrylic décor pieces are incredibly versatile, making it easy for our clients to truly customize their experience to their liking. Chic, colorful acrylic glow columns give off a futuristic feel, while customizable lanterns and vases provide an opportunity to display a small logo or image at appropriate locations throughout the event.
We have recently expanded our selection of artificial plants and greenery to include boxwood hedge walls and topiary, includinga variety of 6' to 7' trees.

Dozens of couples planning tropical destination weddings have come to us for their local event decoration needs. Beautiful real wood conga drums can serve as standing décor or be played to provide an authentic and lively beach feel. For a more formal wedding, a crystal garland chandelier can be an elegant, glittering focal point when suspended above the wedding event's head table.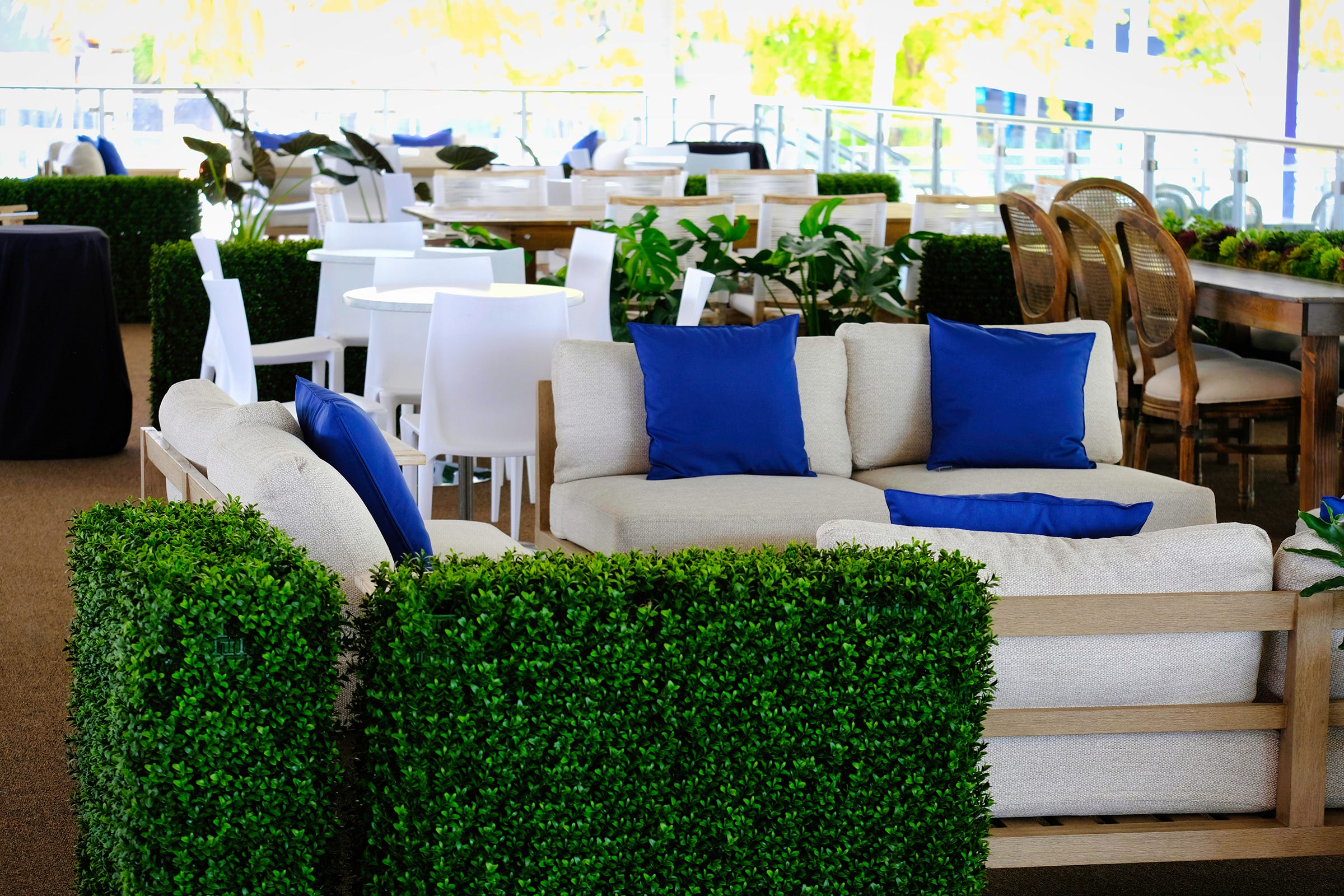 Textiles with Style
Add comfortable seating areas and stunning fabrics by adding rental sofas accented with beautiful throw pillows. Create a cozy small space by grouping chairs and sofas around area rugs in various sizes, or put down a large carpet to bring a bit of warmth to an open space. Whatever area you choose to create, our top-quality rental pillows, rugs, and other fabric elements make for a plush and elegant setting.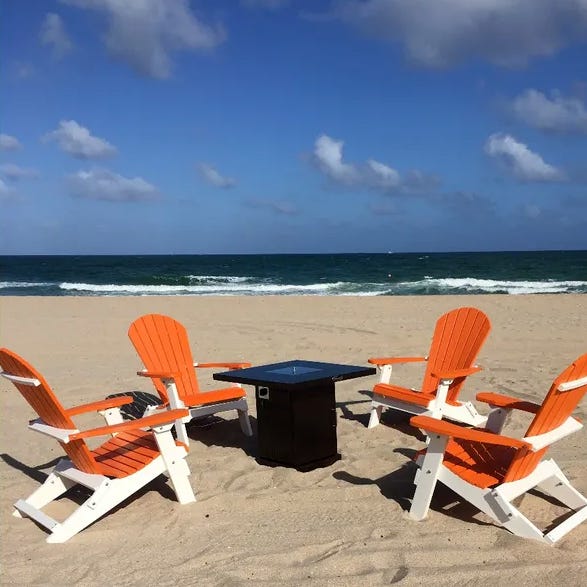 Let Guests Dance and Drink with Dance Floor and Outdoor Rentals
For an event filled with merriment and music, a dance floor rental from So Cool Events could be the ideal addition to a lively charity ball or wedding reception. Made from interconnected tiles, our sturdy rental dance floors come in a variety of styles. Choose from 24x24-foot or 32x36-foot floors, or create your own custom-sized (and custom-shaped) floor from individual 4x4-foot tiles.
You can also provide comfortable outdoor event spaces for your guests with So Cool Events' stainless steel propane heaters, and cozy decorative fire pits.
Decorate Your Venue with Event Rentals from So Cool Events
Our gorgeous, high-quality rental furniture, lighting, and décor have been a part of numerous high-profile events for major clients like the Red Cross and the Museum of Modern Art (MoMA) in New York City. Now we hope you'll choose So Cool Events to help you make your upcoming personal or professional event absolutely unforgettable.
To find out more about our stylish rental pieces and discuss your event with our professional staff, call our Miami Event Specialists at your earliest convenience at (305) 635-8088 or (407) 900-2715.
Explore Additional So Cool Events Rental Services in Miami